As you grow older, there's nothing more than escape and relaxation that you wanted to have for your birthday. So I'm nothing but thankful to my boyfriend for surprising me for a quick getaway for my 26th birthday on one of the famous hidden gems in Antipolo, Rizal – Luljetta's Hanging Garden.
It's the perfect surprise/gift because it's been months since I went anywhere and despite that, we live in Rizal as well, such relaxing retreat from work and adulting is much needed. Also, my birthday is a weekday making it perfect for Luljetta's – fewer people to share the place with.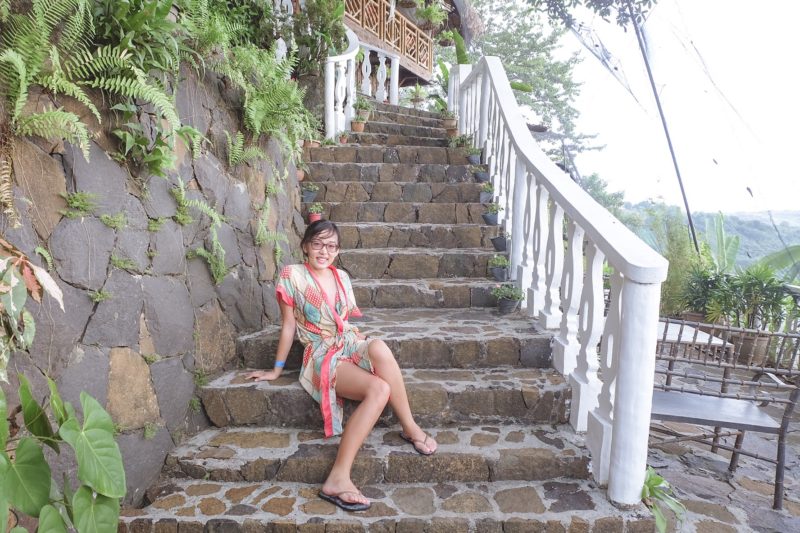 Disclaimer: We got the cheapest daytour package – P1150. 
Going to Luljetta's Hanging Garden
Boyfriend told me about his plan a night before so I was able to bring my swimsuit and toiletries with me. He picked me up from our house on a Tuesday 9AM morning and we wazed our way to Luljetta's.  We decided to take a heavy early lunch on Cloud 9 Restaurant first since the package we'll be getting has only snacks on it.
If you're gonna take public transportation, ride a UV Express going to Antipolo Simbahan in various terminals like Santolan LRT2 Station, Megamall,  Starmall or Robinson's Galleria. From Antipolo Cathedral, take a tricycle to Loreland/Luljetta's.

Luljetta's Warm Welcome
Upon arrival, we were welcomed by the guard and led us to the parking area for Luljetta's customers then a random staff walking greeted us and point as to where is the reception area. The open reception area smells like spa already, with big comfortable sofa chairs and welcome ice cold water. We were called by the receptionist after accommodating the two girls before us and asked for our reservation (Reservation is a must. Call them before going.) and the package that we'll avail.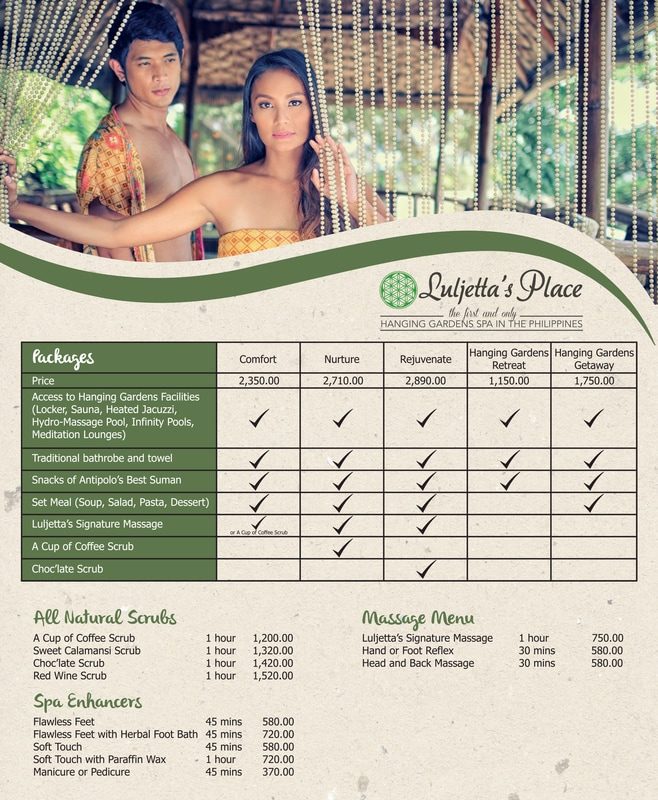 We availed the cheapest one, the Hanging Garden Retreat which is mostly just access to the facilities, robe, towel and snacks for 5 hours (but the receptionist told us that since there were just 10 guests that day, they won't mind if we stay more than 5 hours YAAAASSS!!!).  I've read reviews that the massage and set meals are ordinary for the price so we skipped that. We paid using credit card then we were given wrist tags and asked to ride the golf cart to the hanging garden.
Oh my excitement.

Pre-Hanging Gardens Retreat
Luljetta's Hanging Garden is just a part of Loreland Farm Resort which is in the mountain edge side of the resort. That's why it is called hanging garden because it is like a garden hanging from the mountain. The golf cart ride is short and it is just 10-15 minutes walk from the reception. There's another receptionist waiting downstairs who'll give you instructions and a checklist of things you'll need. She also asked us on what time are we availing our snacks. We told her 3:30 PM.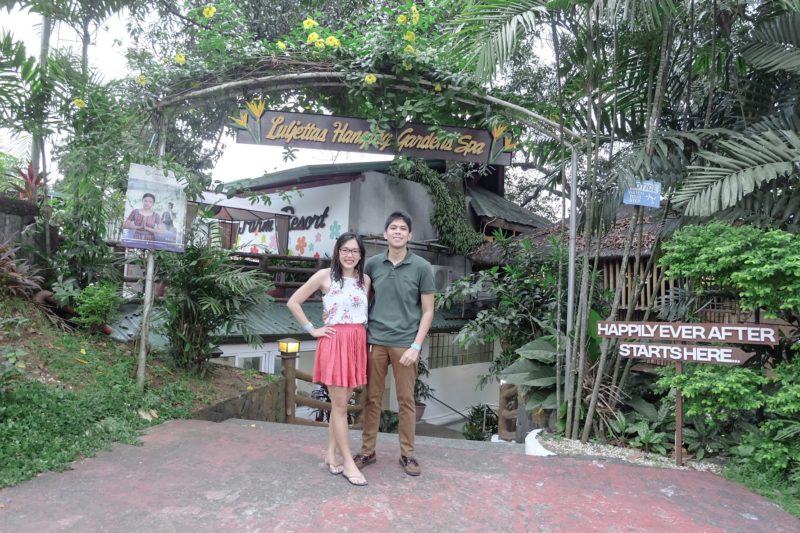 There's a separate locker room for the boys and girls of course but there is only a small reception (again) in the girl's locker room. The staff gave us a locker keys and a basket with towel and traditional robes (batik) which are very smooth and fresh. Paul forgot to bring slippers but good thing is you can borrow from them. He also asked to see the swimming trunks available and decided to borrow that as well. Oh my jowa!
I changed into my swimsuit and put on my colorful batik excitedly.
The Hanging Garden Experience
We didn't know where to start so we decided to do things from top to bottom. I have to warn you that there's a lot of stairs here. At the same level of the locker rooms, there's the Jacuzzi, sauna room, first infinity pool and a lounge.
First things first, Jacuzzi & Sauna!!
It's small and maybe can only fit up to 4 people but it's the perfect start. The pressure is right and the temperature is not that cold.